Rotary Vacuum Drum Filter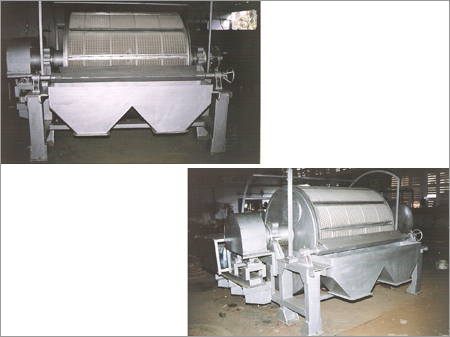 Rotary Vacuum Drum Filter
Product Description
Rotary Vacuum Drum Filter

Operating from our base in Mumbai, Maharashtra, India, since the year 1998, we are competently manufacturing, exporting and supplying a Rotary Vacuum Drum Filter, along with an entire gamut of reliable equipment for the chemical industry. Designed to facilitate quick and complete drying as a batch operation, this filter is suitable for drying heat sensitive material, which is generally 40-45 percent of the wet material loaded into it. Made available in capacities of 10,000 to 20,000 liters, this Rotary Vacuum Drum Filter is used for processing pharmaceuticals, organic chemicals, pasty materials, insecticides, pesticides, dye intermediates, dyestuffs and in solvent recovery applications.
Features:
Equipped with agitators
Quick opening discharge valve
Breaker rods to prevent lump formation
Shaft sealing with mechanical seals
N2 pulse jet dust filter (self cleaning type)
Capacity : 0.5m3 to 10.0m3 in M.S. S.S.304, S.S. 316 Material Jacketed or Limpeted type .
Applications : Chemicals, Pharmaceuticals, Food Products, Resins, Dyestuffs.